Savremene tehnologije i savremeni koncepti nastave
Vana Colić

Privatna gimnazija E-gimnazija
Ključne reči:
unapređivanje nastave, inovacije, tehnologija, podrška nastavnicima
Apstrakt
Savremene tehnologije su sastavni deo osavremenjavanja nastave, ali da bi one zaista unapredile nastavu, neophodno je da se koriste zajedno sa drugim inovacijama u nastavi, kao što su timski rad, aktivno učenje, učenje istraživanjem i drugi. U radu se najpre određuju značenja nekih od osnovnih pojmova relevantnih za temu. Zatim se razmatra odnos i uzajamna povezanost upotrebe tehnologije i uvođenja inovacija u nastavu. Poseban deo rada posvećen je iskustvima koja govore u prilog tome da uvođenje inovacija nije samo odgovornost nastavnika, već je uslovljeno institucionalnim kontekstom, kao i širim društvenim kontekstom. U radu se takođe razmatra uticaj savremene tehnologije na razvoj kreativnosti i kritičkog mišljenja učenika. Autor rada se zalaže za prevazilaženje tradicionalnih shvatanja i uvođenje inovacija u nastavu, koje će biti podržane savremenom tehnologijom, a koje podstiču učenje zasnovano na igri i istraživanjima učenika, aktivnom učenju i projektnoj nastavi. Da bi to bilo ostvarivo u praksi nije dovoljno osloniti se na individualne osobenosti, kompetencije i motivaciju pojedinih nastavnika, već je potrebna veća sistemska podrška nastavnicima.
Reference
Bray, A., Tangney, B. (2017). Technology usage in mathematics education research – A systematic review of recent trends, Computers & Education, 114, 255 – 273.
Brezovszky, B., McMullen, J., Veermans, K., Hannula-Sormunen, M.M., Rodriguez-Aflecht, G., Pongsakdi, N., Laakkonen, E., Lehtinen, E. (2019). Effects of mathematics game-based learning environment on primary school students' adaptive number knowledge, Computers & Education, 128, 63 – 74.
Brodie, K. (2010). Teaching mathematical reasoning in secondary school classrooms, Springer New York Dordrecht Heidelberg London.
Charalambous, C.Y. (2016). Investigating the Knowledge Needed for Teaching Mathematics: An Explaratory Validation Study Focusing on Teaching Practices, Journal of Teacher Education, 67 (3), 220 – 237.
Costica, L. (2014). The contribution of the new technologies to learning mathematics, Procedia - Social and Behavioral Sciences, 128, 240 – 245.
Cropley, A. J. (2011). Definitions of creativity. In M. A. Runco & S. R. Pritzker (Eds.), Encyclopedia of creativity (pp. 511-524). San Diego, CA: Academic Press.
Darling-Hammond, L., Hyler, M. E., Gardner, M. (2017). Effective Teacher Professional Development. Palo Alto, CA: Learning Policy Institute.
Ferraro, S. (2018). Is information and communication technology satisfying educational needs at school? Computers & Education, 122, 194 – 204.
Grupa autora, (2013). Nastava orijentisana na učenje, Solun, Grčka, Centar za demokratiju i pomirenje u jugoistočnoj Evropi.
Ivić, I., Pešikan, A., Antić, S. (2001). Aktivno učenje 2. Beograd, Institut za psihologiju.
Kennedy, D. (2011). Pisanje i upotreba ishoda učenja, Beograd, Tempus kancelarija u Srbiji.
Koludrović, M., Reić Ercegovac, I. (2010). Poticanje učenika na kreativno mišljenje u suvremenoj nastavi, Odgojne znanosti, 12(2), 427 – 439.
McCulloch, A.W., Hollebrands, K., Lee, H., Harrison, T., Mutlu, A. (2018). Factors that influence secondary mathematics teachers' integration of technology in mathematics lessons, Computers & Education, 123, 26 – 40.
Opšti standardi postignuća za kraj opšteg srednjeg obrazovanja i vaspitanja i srednjeg stručnog obrazovanja i vaspitanja (2013). Beograd, Zavod za vrednovanje kvaliteta obrazovanja i vaspitanja.
Paul, R. W. (2012) Critical Thinking: What Every Person Needs To Survive in a Rapidly Changing World, Tomales, California, Foundation for Critical Thinking.
Pavlović – Babić, D., Krnjaić, Z., Pešić – Matijević, J., Gošović, R. (2001). Struktura sposobnosti i veština kritičkog mišljenja, Psihologija, 1-2, 195-208.
Pedagoški leksikon (1996). Beograd, Zavod za udžbenike i nastavna sredstva.
Polly, D., McGee, J., Wang, C., Martin, C., Lambert, R., Pugalee, D.K. (2015). Linking professional development, teacher outcomes, and student achievement: The case of a learner-centered mathematics program for elementary school teachers, International Journal of Educational Research, 72, 26 – 37.
Roeders, P. (2003). Interaktivna nastava. Beograd, Institut za pedagogiju i andragogiju Filozofskog fakulteta.
Tall, D. (1990). Using Computer Environments to Conceptualize Mathematical Ideas, Proceedings of Conference on New Technological Tools in Education, Nee Ann Polytechnic, Singapore, 55– 75.
Tall, D. (1998). Information Technology and Mathematics Education: Enthusiasms, Possibilities & Realities. In C. Alsina, J. M. Alvarez, M. Niss, A. Perez, L. Rico, A. Sfard (Eds), Proceedings of the 8th International Congress on Mathematical Education, Seville: SAEM Thales, 65–82.
Tsai, C-W. (2016). Research Papers in Online Learning Performance and Behaviour, International Review of Research in Open and Distributed Learning, 17(1).
Vodič kroz ESPB (2011). Beograd, Tempus kancelarija u Srbiji.
Zakon o osnovama sistema obrazovanja i vaspitanja (2017). Beograd, Službeni glasnik broj 88/17.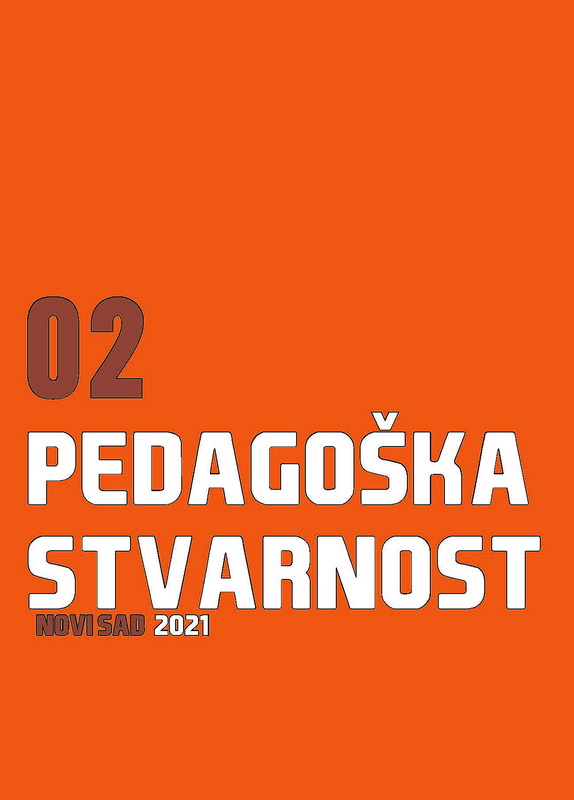 Sekcija
POGLEDI I MIŠLjENjA